Why website design matters
A website is a brand touchpoint, a business tool, and a place to drive critical conversions. A great website can be an engine of business growth. A poor site can inflict damage on your brand.
But outstanding web design isn't easy. Today's audiences have high expectations. You have seconds – maybe milliseconds – to convince visitors that your site is worth their time.
With over 10 years of experience, DotFix Technology creates websites to exceed audience expectations. We build sites to perform with a focus on strategic planning, compelling visual design, and flawless user experience, in order to drive superior results.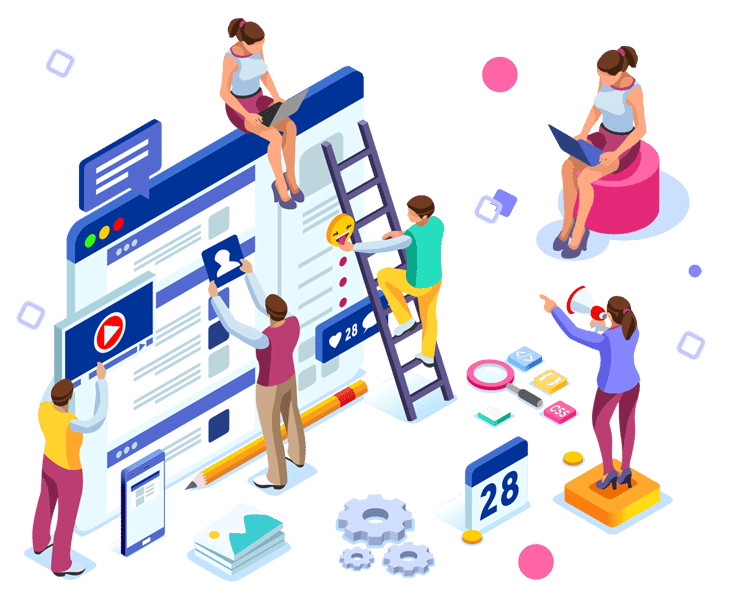 How to build a better-converting website
Every website is built to achieve different goals – from sales, to leads, to engagement. But to create a website that actually meets those goals, it's critical to design the right way.
Design for your users.
Put the needs of the site's users first. If you don't know what users' needs are, ask them. As a user-centered agency, this principle is the foundation of everything we create. 
Design with a purpose.
A great website has beauty and brains. Naturally, it should look good. But it also needs to be built with a clear view of its most important goals and conversion points, and how the website will support users on their journey toward those goals. 
Design for discoverability.
A site must be designed in such a way that people can find it – and that starts with visibility to search engines. A good site should be technically optimized, and built so that there are relevant, engaging landing pages for users to land on.
Our website design process
DotFix Technology website design approach has been tested and refined over many years and hundreds of websites, spanning almost every industry imaginable. We're a New York web design agency, but we work with clients around the country.
Discovery + User Research
Getting to know you (and your users)
We start by building our understanding of your business. We speak to key stakeholders and dive deep into data you already have, including the performance of any existing site.
Our goal is to start research on your users as soon as possible. This might involve speaking to your customers, creating or analyzing quantitative research like surveys, or performing user testing on the existing site.
Strategy
Envisioning a site that means business
A website strategy aligns the website's proposed structure, content, and features with business goals. It's where we make high-level decisions about the direction of the website.
During strategy, an experienced website strategist collaborates with UX, design, and content specialists to conduct research, identify challenges and opportunities, and make recommendations. At the end of the phase, we present a strategy document that guides the creation of the website and sets the tone for your project
In planning, our information architects and UX designers turn strategic direction into a blueprint for the site. Planning is also where we identify the site's technical requirements and specifications. [link to IA + UX page]
The first key deliverable is a sitemap, which shows the structure and hierarchy of the site's pages. Next come wireframes – low-fidelity, black and white designs that show each page template's essential structure. These deliverables are supported by as much user research as we can conduct – we're passionate about getting our concepts in front of users in order to test and refine them.
Design
Bringing the website to life
Design is where the hard work really starts to pay off. We begin with an exploratory – as the name suggests, we explore a range of possibilities with you, getting a feel for how to represent your brand.
Some of our clients have strict brand guidelines, while others are looking for guidance on how to define or reimagine their brand – we're equally comfortable working with both.
The deliverables for the design phase are full-color mockups of each template, which build on the wireframes created during planning. Each mockup is presented to your team for detailed feedback as we go, starting with the homepage. And since a fully responsive design is non-negotiable, we design separately for desktop, mobile, and tablet, optimizing every element and interaction for each device.
Copywriting
Finding the words to inspire and convert
Everyone writes. But not everyone writes for the web.
Our copywriters know how to write concisely and impactfully to capture ever-shrinking attention spans. They know how to make a story unfold and make pages flow. They can think like a first-time site visitor, and make a page attractive to humans and search engine bots alike. And they'll dive deep into product features, service offerings, and more to find a message that resonates.
SEO
Maximizing relevance, reach, and discoverability
SEO is part of the fabric of an effective website, not an accessory. Building your site first and "doing SEO" later can result in missed opportunities or put existing equity at risk.
For that reason, each website we design is built with SEO front of mind. Our SEO specialists stay involved throughout the project to help ensure we create the right pages in the right places. Sitemaps, wireframes, copy, and even design elements are carefully reviewed to ensure they're discoverable, relevant, and follow SEO best practices.
Development, QA and Launch
As a full-service website agency, we have expert website development resources in-house, but we're equally comfortable working with in-house or third party dev teams.
We're accustomed to handing off spec docs and marked-up visual designs in a way that makes life easy for the development team, making it straightforward build a site that looks just as envisioned and performs as advertised. 
Let's start a conversation.
If you have any questions, please don't hesitate to send us a message.